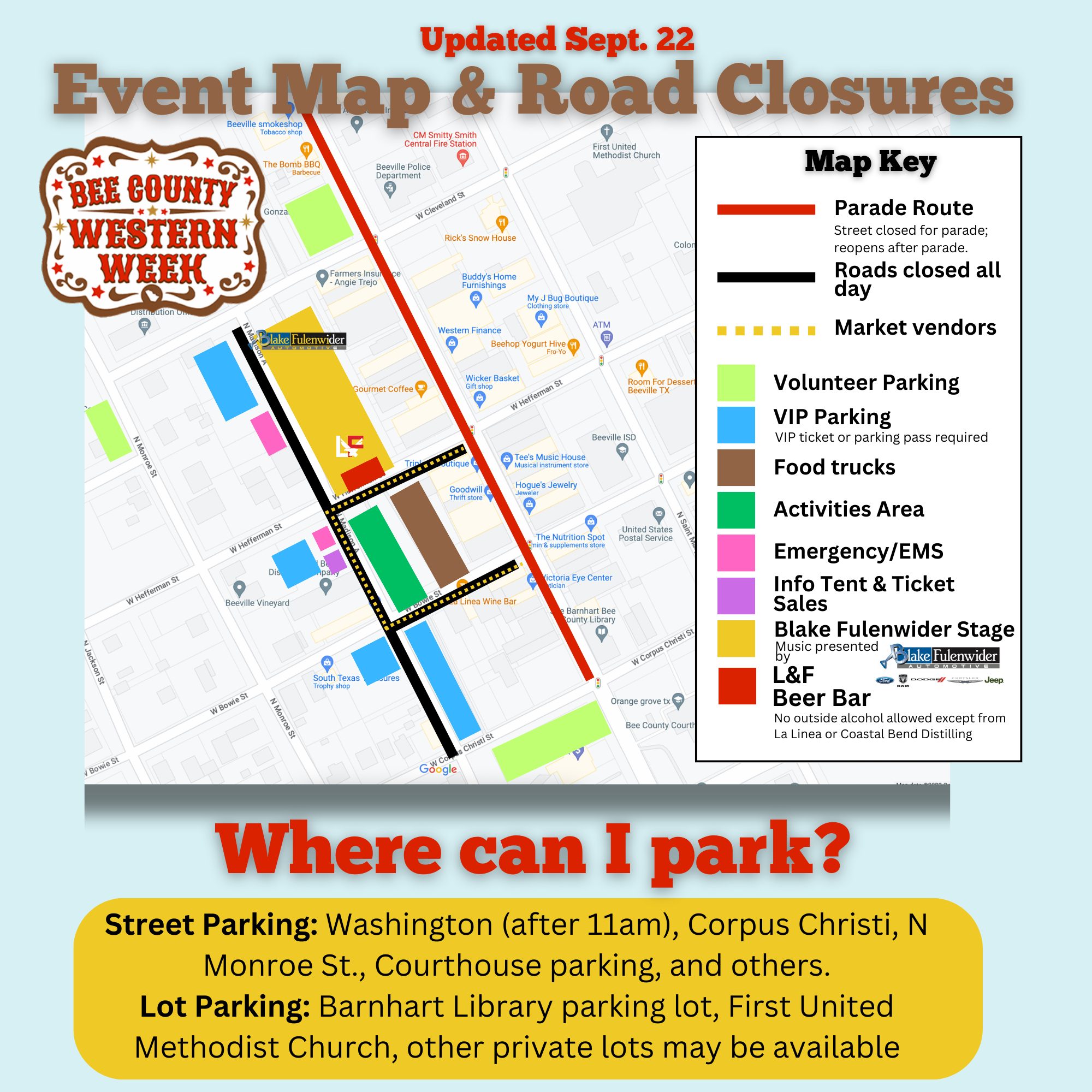 Frequently Asked Questions
Will there be a parade? Yes! The parade is at 9:00 am on Saturday, October 7th. It will proceed down North Washington St. through downtown Beeville. Learn more here.
Will there be a carnival? Unfortunately not. We cannot fit a carnival in the downtown district, though we are looking into getting a couple of smaller rides and other fun activities for the kids!
Will there be a rodeo? Until we can move Western Week back to the Bee County Expo & Coliseum, we won't be able to host a rodeo. Hopefully that will be back next year!
Why isn't it at the Bee County Expo? We tried, but the expo was booked for all of October. This is our first "comeback" year to rebuild Western Week to its former glory, so next year we will definitely be back at the Expo!
How long has Western Week been going on? This is our 85th year of Western Week celebrations! Newspaper articles and other Western Week records show the incorporated event beginning in 1937 with 2020 being the only year that Western Week has been canceled in our history. Records show that a fair, festival and parade dates as far back as 1915 but it didn't become official until decades later.
Is it free to attend? Yes! The parade, market, and all the day-long activities downtown are free to the public. The evening concert is a paid ticket event, though free market and food truck vendors will be available to the public long into the evening.
How many people will be there? We are estimating anywhere from 1,000 to 2,000 people throughout the day.
How do I get tickets? Tickets for the evening concert can be purchased in-person at select locations and online beginning August 15th. Learn more here.
Where can I park? You can park anywhere street legal or in open public parking lots in the downtown district during Western Week. Limited parking lots will be reserved for VIP concert ticket holders and you must present proof of purchase to be admitted to the VIP parking lot (see map above). Please be aware of parking in front of people's driveways, fire hydrants, or on business private property (who may or may not tow at the car owner's expense - look for signage!)
Will there be bathrooms available? Public restrooms will be available on either side of the designated Western Week downtown district (see map above). Restrooms may also be found in limited businesses open for the day. Please refrain from using these business bathrooms unless you are a paying customer.
Can I come & go throughout the day? Yes! If you want to take a break to change clothes, sneak in a cat nap or just relax, you're welcome to come-and-go as you please. Concert ticket holders will be given a custom wristband that will allow them entry/exit into the main stage area all night long.
What kind of activities will there be? We're working on that and will update you soon! For now we are planning things like a petting zoo, fun contests, face painting & more!
What kind of things can I do with my kids? Western Week is fun for the whole family! From the parade to browsing market stalls, or participating in our daytime games & activities we have so much to offer to entertain your kiddos! We recommend finding a babysitter for the evening if you plan to come to the concert later at night - children under 15 years old will not be admitted. There will be alcohol and loud music and we will party late into the night. Give yourself a treat and indulge in an adult night!
Will there be food available? Yes! We are inviting food trucks all around the region to come set up. There are also your local downtown businesses open, like: La Linea Wine Bar, Hattie & Hazel's, Room for Dessert, Bee Perk Coffee, Uncommon Market & Coastal Bend Distilling Co. tasting room.
Can I bring alcohol? Outside alcohol is not permitted in the Western Week downtown event area. Available alcohol can be found at La Linea Wine Bar, Coastal Bend Distilling Co. or at our exclusive L&F Distributor beer & wine tents.
Will the Mighty Trojan Band be in the parade? At this time, we don't know but we've given it our best effort! We scheduled Western Week on October 7th because it was a date their music director said may possibly work, though it will not be 100% known until their competition schedule is released.
Who is performing music? The evening concert features Matthew Ryan & the Midnight Tokers, Dave Rukkus Band, and Robert Ray. Additional local artists will be featured throughout the day. Check back again for details later on!
Can I volunteer? Absolutely! We welcome volunteers and will thank you with a free Western Week t-shirt. To sign up to be a volunteer email us at info@experiencebeecounty.org and mention "Western Week Volunteer" in the subject line and we'll forward it to our volunteer coordinator. We will award service hours for your time volunteering with us.
Can I sponsor? We would love it! Putting on a huge community event like this adds up quickly and it wouldn't be possible without generous sponsors like you. Visit our sponsor page to learn more.
Can I be a vendor? Please! The more the merrier. It was an awesome sight to behold last year with over 80 market vendors and hundreds of happy shoppers at our Western Week market. We guarantee you'll make your registration fee back and then some! To be a retail vendor, visit our market page to learn more. To be a food vendor, visit our food & alcohol page to learn more.