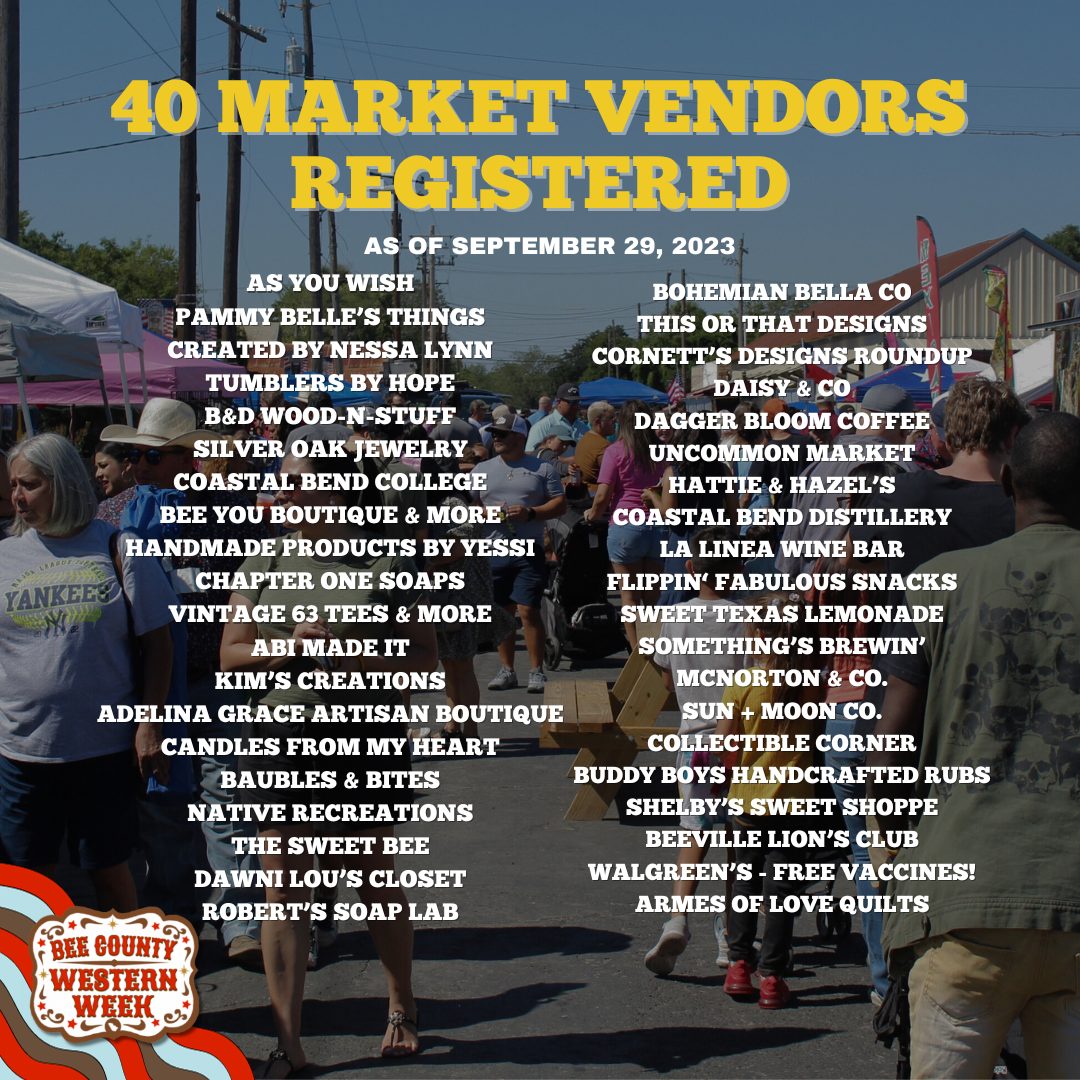 WHAT: Market at Beeville Western Week
WHEN: Saturday, October 7th
TIME: 10:00 a.m. until 6:00 p.m.
SETUP: 6:00 a.m. until 9:45 a.m.
WHERE: Downtown Beeville, Texas
REGISTRATION: $50 single booth / $80 double booth
REGISTRATION DEADLINE: Sunday, October 1st
Bee County's 85th annual celebration will be hosted in Downtown Beeville. The Western Week organization is putting on events all week long, culminating in one big final day on October 7th in Downtown Beeville. This is the beginning of a 3-year rebuild to make Western Week as big and fun-filled as it once was. The market day (October 7th) begins with a community parade down Washington St. at 9:00 am with over 80 floats, the downtown district will be bursting full of people.
Market opens to the public at 10:00 am and is located in the zoned area for Western Week activities. The zoned area will be closed to vehicle traffic and will have activities scheduled all day from 10AM through 11:30AM. The evening's main entertainment begins at 4:00 PM with Matthew Ryan & the Midnight Tokers, followed by the Dave Rukkus Band at 7:30 PM and headliner Robert Ray begins at 10:00 PM. The entire Western Week zone will close down following the conclusion of Robert Ray's performance at 11:30 AM.
Market registrants are *REQUIRED* to remain set up and in business the entire length of the market 10:00AM - 6:00 PM. Set up opens at 6:00AM. Bring enough inventory, schedule shifts and plan accordingly. Any vendors who break down early and leave will not be allowed at future Western Week markets. Vendors will be set up on Hefferman, Madison and Bowie streets and are given a 10'x10' area for the registration of $50. A double spot may be purchased of two (2) back-to-back 10'x10' areas for $80. Please click the drop-down to select the location best for you.
100% of the proceeds for Western Week market vendor registration will be donated to the Western Week committee to pay for public expenses related to the event. Registrations are non-refundable, no exceptions.
All vendors must register by October 1, 2023.
There is no electrical available for any Western Week market vendor booth.
We are anticipating a crowd of 1,000 to 1,500 people or more throughout the day.
Downtown Co-op and Beeville Saturday Market rules and regulations apply for Western Week market vendors.
No resale items
No MLM business models/items
Please visit the Beeville Saturday Market information page and agreement form for details.
If you apply & pay for booth registration and the coordinator determines that your products do not fit our standards, a full refund will be issued.
Purchase of a registration will automatically add your email to our vendor email list which will send full details in the weeks leading up to the event. Details will include but are not limited to: setup, times, parking, passes, etc.
SPECIAL NOTE RELATING TO FOOD & BEV VENDORS
Because Western Week is a larger public event organized by the Bee County Chamber of Commerce and is partnering with theCity of Beeville and Downtown Saturday Market, all food-related booths serving fresh/hot/iced food items for immediate consumption will need to apply on the Bee County Chamber of Commerce website (click the "Food & Alcohol" tab)
Food vendors will need to comply with health codes and permit regulations.
Retail food vendors selling cottage industry goods not intended for immediate consumption (i.e. packaged individually for retail) may apply as a market vendor.
The vendor market coordinator and City of Beeville representative for food vendors has the final determination as to whether or not your vendor application qualifies as a market vendor or food vendor.
By paying and submitting this registration, you acknowledge and agree that the coordinators may decide your booth is a food vendor, and you will receive a refund and be redirected to re-apply on the Bee County Chamber website.
SPECIAL NOTE RELATING TO 501(C)3 ORGANIZATIONS
If you are a 501(c)3 looking to set up a booth purely for informational or educational purposed and will not be selling items, you will get a full refund on your registration fee.
If you are a 501(c)3 looking to set up a booth to sell items to fundraise, then the registration fee will not be refunded.
Registration will be collected at check-out (below) to hold your spot and will be refunded following the event on October 7th, 2023.
501(c)3 organizations must bring proof of nonprofit status at market check-in to verify their status and qualify for a refund.
Please direct any further questions to beevillesaturdaymarket@gmail.com
To register and purch
ase your booth space, please visit the Saturday Market webpage for Western Week.