There will be food & drinks galore at Western Week!
Check out our lineup of Food trucks on socials.
The L&F Beer bar will also sell non-alcoholic energy drinks and bottles of water. You do not need to be 21+ to enter the bar area.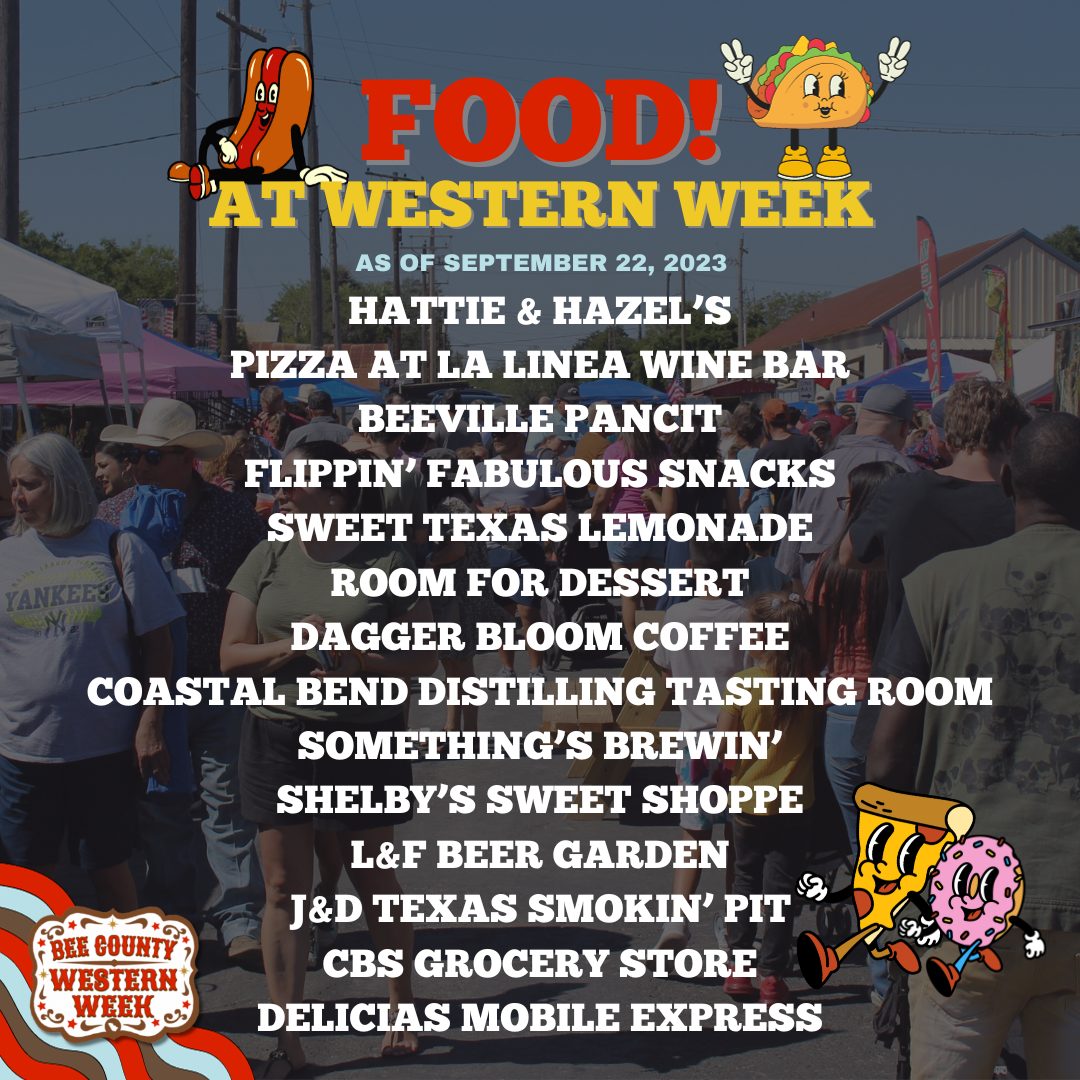 L&F Distributors will host 2 bars serving beer, seltzers, energy drinks & water, beginning at 11:00 am through the concert at 11:30 pm. You do not need to be 21+ to enter the bar area, but you need to show proof of legal drinking age to purchase alcohol.
La Linea Wine Bar and Coastal Bend Distilling will be giving away Western Week souvenir cups complimentary with drink purchase. The cups can be enjoyed anywhere on Western Week premises.
*No outside alcohol is allowed in the L&F bar and main stage area excluding beer purchases at the L&F bars, or La Linea & Coastal Bend Distilling souvenir cups.*
Drinks are purchased at the L&F bar with alcohol tickets. Alcohol tickets can be purchased at the Chamber of Commerce info booth in front of Coastal Bend Distilling Co. on Madison St. Bring cash for tips, or tip bartenders via Venmo, Cashapp, etc.
Only one alcohol purchase per person at the L&F bar at a time; one individual cannot purchase on behalf of a group. Alcohol prices start at $4. Detailed menu to come.
L&F will host 2 bars in the Blake Fulenwider Music Stage area. One bar is for the general public. A second bar will be operated in the VIP seating area for VIP ticket holders only.
We are calling all interested food vendors & food trucks! With a huge community event going on that will attract 1,000 to 2,000 people throughout the day, you don't want to miss out on the buzz!
Rules & Requirements for Food Vendors
1. Food vendors must be permitted by the City or County. Must be current.
(Note: *For food truck vendors or food vendors you will need a current city
or county food permit. The city does provide a temporary permit and
inspection for $30.00, for more information on permitting call 361-358-4641
ext. 242).
2. Food vendors must have a current food handlers card. Anyone who is handling
food or drink must have a current food handler's card as well.
3. A copy of your current food truck/food vendor permit and food handlers card
must be submitted to melissa.sanchez@beevilletx.org
4. Deadline to submit copies of your current permit and food handler's card is Oct. 2, 2023 by 3:00pm
5. The Western Week Food Truck/Vendor fee is $100.00 and the Western Week Food Booth fee for non-truck based food booths or pop-ups is $50.00 (both non-refundable)
6. Set up starts at 6:00 am, crowds will start at 10:00 am and go through 11:00 pm.
7. Deadline to sign up is Oct. 4th at 3:00pm.
8. September 20 @ 5:30 pm - Mandatory City/County permit & health inspector meeting for all food vendors.
9. Must sign waiver that will be sent to you.
For more information contact:
Cathy Black at cblack@experiencebeecounty.org or at 361-358-3267 or contact:
Melissa Sanchez at melissa.sanchez@beevilletx.org or 361-358-4641 ext. 242