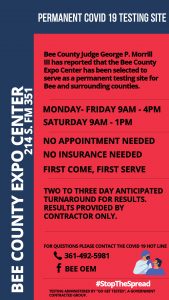 Bee County Judge George P. Morrill III has reported that the Bee County Expo Center has been selected to serve as a permanent testing site for Bee and surrounding counties. No appointment or insurance needed - first come, first served. Typical turnaround will be 2-3 days, results provided by contractor only.
For more information call the hotline: 361.492.5981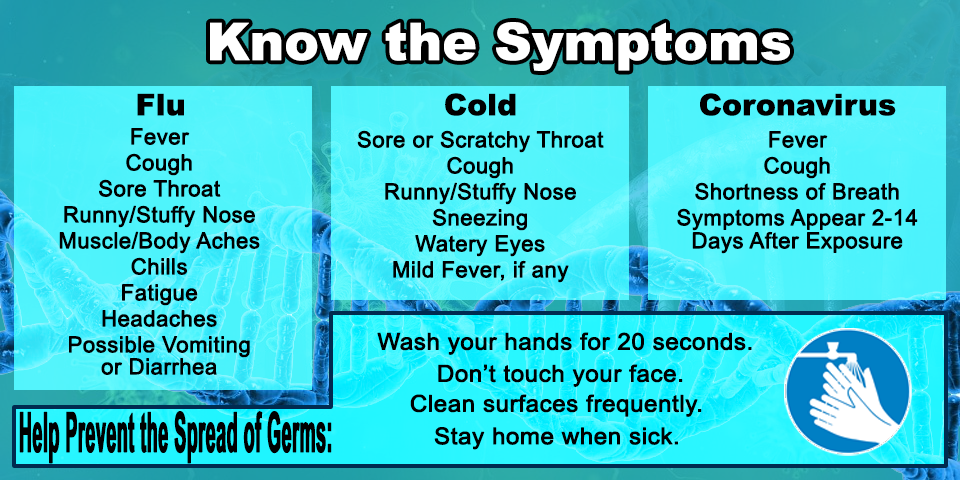 Beeville CARES Small Business Grant
The City of Beeville will invest $186,000.00 into small businesses as part of 
Beeville CARES
, a broad relief program supporting the needs of small business owners in response to the pandemic that are located within the Beeville City Limits. This one-time grant places emphasis on small businesses that have been negatively impacted by the global pandemic.
Click here to learn more & view application
.
Small Business Association
In order to make the Economic Injury Disaster Loan application process more efficient and timely, the
Small Business Association
has instituted the following changes:
Choose "Apply Online"
Download listed business forms
Complete the necessary forms
Upload the forms via print & scan (or print completed forms and see mailing instructions)
Instructional webinars are available.
New guidance
clarifies eligibility of faith-based organizations to participate in the Paycheck Protection Program and Economic Injury Disaster Loan program.
Lift Fund
LiftFund is ready to assist you during this time. We have special public and private partnerships to assist small business across our footprint. Please note that there is limited funding for the special programs, but we are offering a LiftFund COVID-19 loan to assist small businesses during this time.
Visit Website
Facebook Grants
Facebook is launching a $100M grants program to help the small business community weather the challenges related to the COVID-19 outbreak. They'll be posting more information over the next few weeks around eligibility and the full application process. Please go to 
fb.me/business-grants-fb
 for more details to come.
Yelp
Yelp Relief for restaurants and bars impacted by the Coronavirus
Local businesses are Yelp's lifeblood, and they want to do what they can to help them during this extremely challenging time. On March 20, Yelp 
announced $25 million in relief
, primarily focused on supporting independent, local restaurant and nightlife businesses, in the form of waived advertising fees and free advertising, products, and services during this period.
GoFundMe
GoFundMe Small Business Relief Fund
The GoFundMe.org Small Business Relief Fund will provide micro-grants to qualifying small businesses negatively impacted by the COVID-19 pandemic. The Small Business Relief Fund is part of the 
Small Business Relief Initiative
: a program supported by GoFundMe, Yelp, and Intuit QuickBooks. The Small Business Relief Initiative will supply financial assistance and support to businesses across the country by providing grants, tools, and resources to help during the crisis.
Support Our Local Restaurants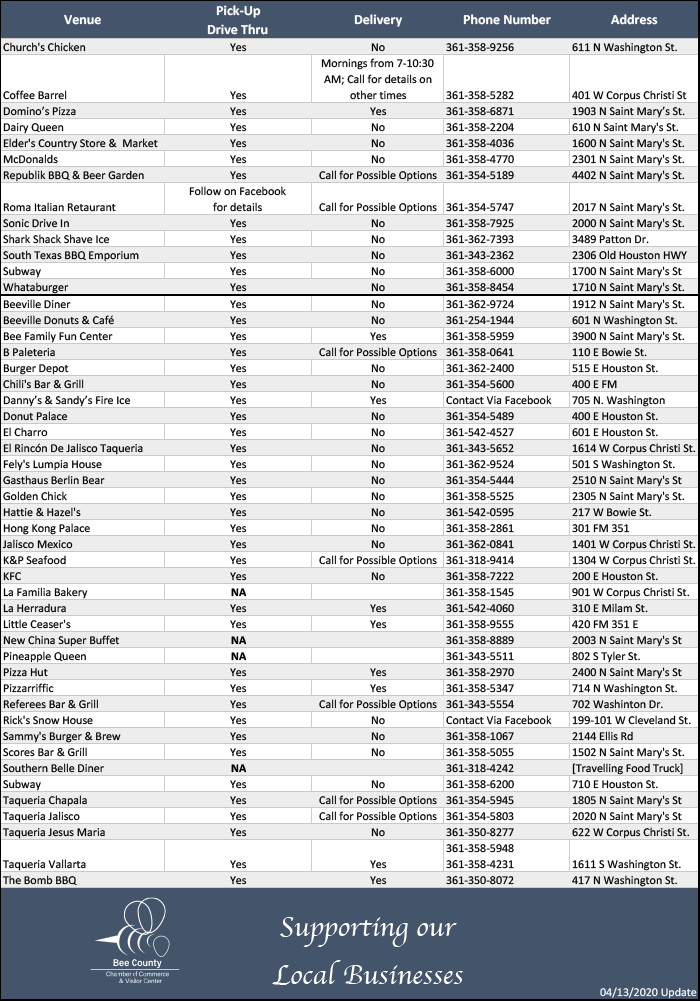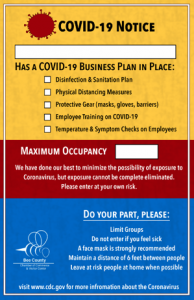 Open to the public?
If you are taking in customers let them know that you care about their health with
this flyer
. Fill out & hang it in your window for all to see what you are doing.
Let's support each other & stay safe!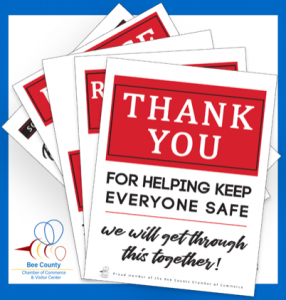 Let the public know your safety protocols - use these free signs to inform them of the new safety guidelines:
Staying connected to your community can be difficult while self isolating, that's why we've put together this graphic to help!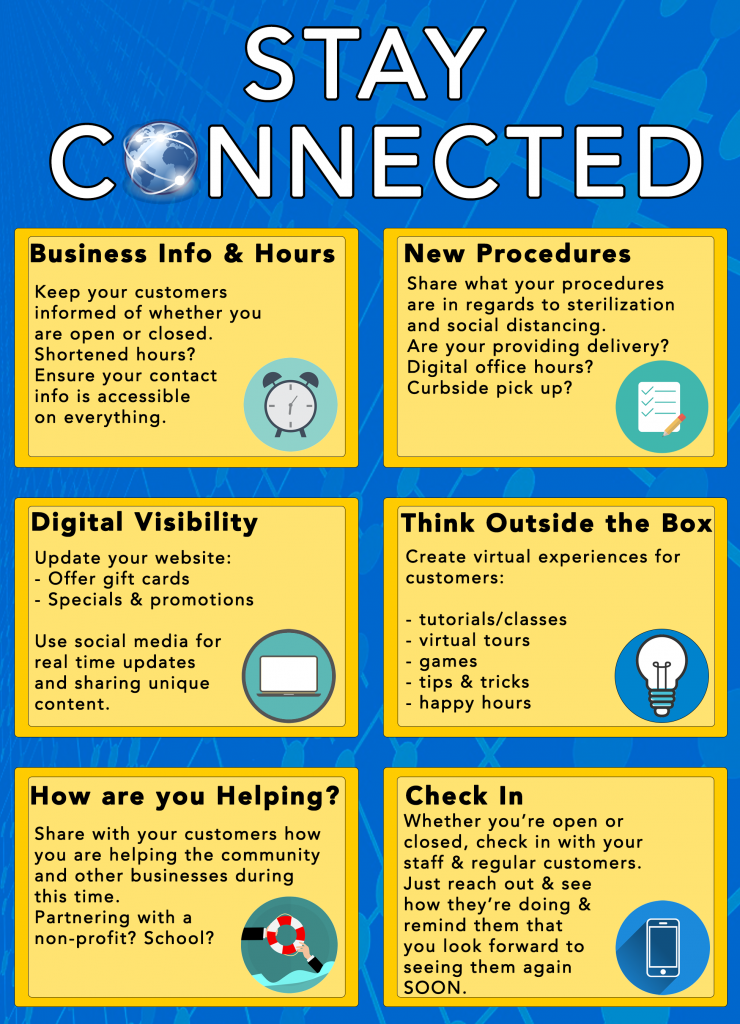 Keep Connected with Coworkers, Friends, & Family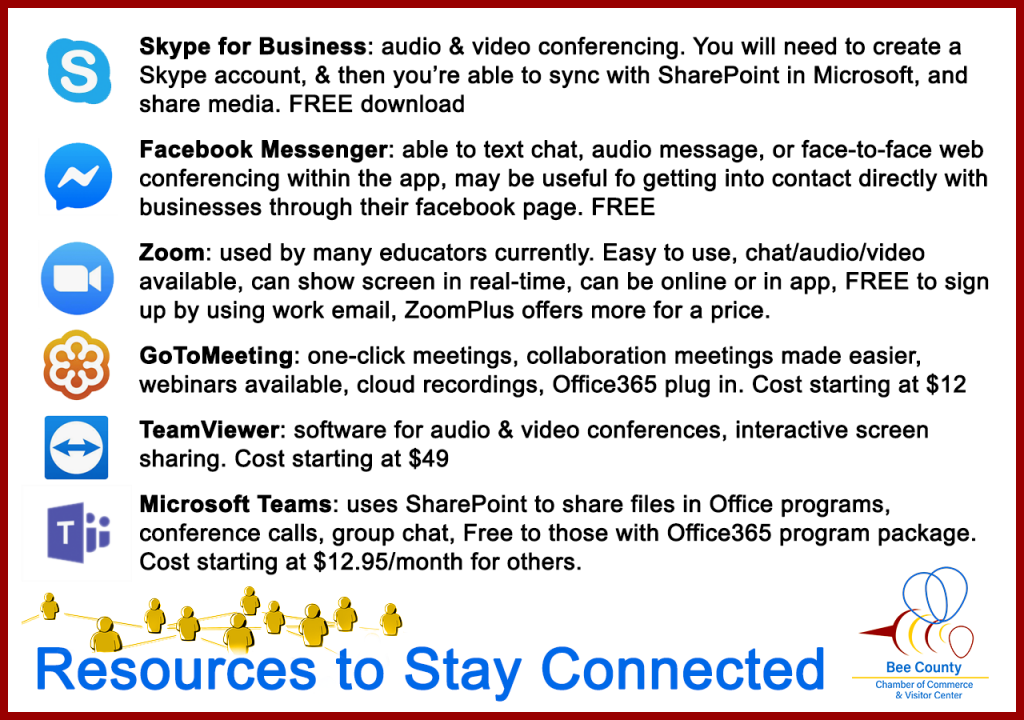 Prevent uninvited guests from joining your meeting:
Use a one-time meeting ID. Enable room waiting to approve guests. Disable join before host to prevent anyone from sharing before you start the meeting. Once the meeting has started & everyone is in, lock the meeting to prevent others from joining.
If someone unwanted does join, lock them out of the call, mute their mic & camera so they cannot disrupt your call.
Help the kiddos say thanks to the essential workers out there & download our coloring book. Pages can be submitted back to the chamber to post on our Facebook page & you can hang them in your windows for all the workers to see!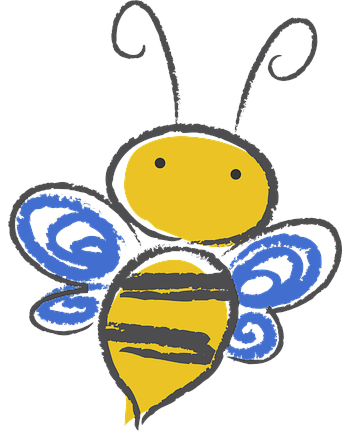 Now, more than ever, the business community needs your support. The Bee County Chamber of Commerce is launching a Gift Card Incentive Program to encourage customers to support local businesses by purchasing gift cards. We hope this initiative will provide companies with much-needed revenue during this uncertain time.
The Gift Card Incentive Program is open to all Bee County businesses who have gift card purchasing options.
Want to register your business? Scroll down & use our submission form below!
*Notice: Some businesses participating in this program may not resume regular operations for a period of time and therefore you will be unable to redeem any purchases until that time. Any transaction made via this page is between the individual and the business they are purchasing from. The Bee County Chamber of Commerce is not responsible for any inability to redeem purchases made.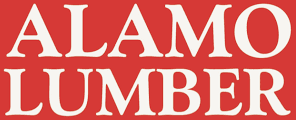 Alamo Lumber Co.- Alamo Hardware
400 S Washington
Beeville, TX
(361) 358-2711
Submit your business for the Gift Card Incentive Program